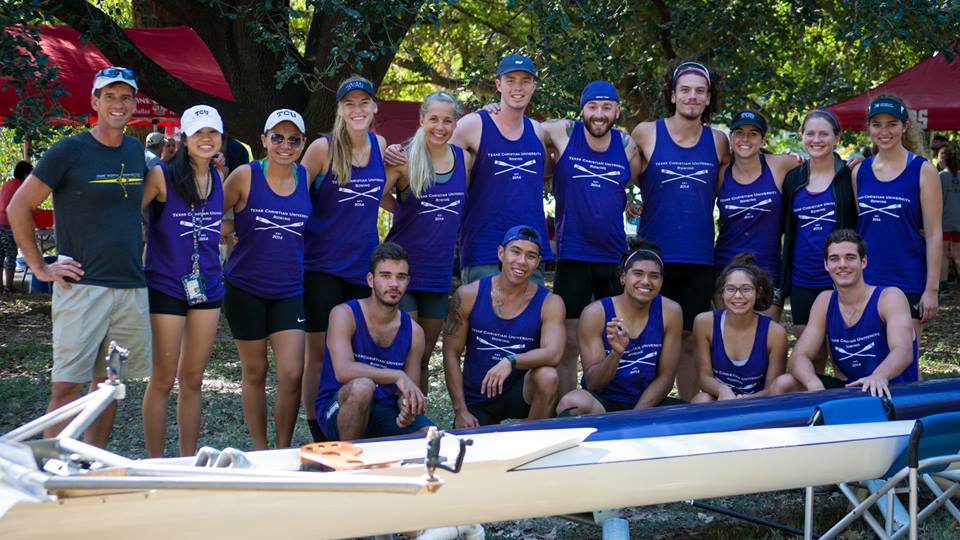 2019 Sprint Seaon Schedule
Members of Spring 2019 Team:
Leadership:
President: Sam Barns
Men's Crew:
Adam Bahr
Alby Bounlutay
James Lincoln
Mathew
Sam Barnes
Gilbert
Women's Crew:
Anna Mathews
Carly Glass
Chloe Downs
Claire Dobbs
Diana Plum
Elissia Rios
Issy Munter
Julia Goodrich
Macy Rutledge
Sydney Irvine
———————————-
Coaches:
Pete McIntosh:   TCU Rowing Director.
Kevin Fujii: TCU Head Coach.
Thomas Guidry: Equipment Manager, Regatta Coordinator, Faculty Advisor.
Sean Callahan:
Megan Callahan:
If you need to coordinate about racing or training with TCU Rowing please contact TCU Rowing Director Pete McIntosh: TCUrowingclub@gmail.com
---
Alum Members of Spring 2017 TCU Rowing Team:
Men's Crew:
James Lincoln
Alby Alby Bounlutay
Alec Laurenti
Neil Gallagher
Nick Ruffcorn
Reece Gilmore
Zachary Taitano
Women's Crew:
Rachel Bynum
Diana Plum
Galilea Monterroso
Ashley Goryl
Carly Glass
Julia Goodrich
Mai Nguyen
Remi Swenson
Krista Burdick
---
PLEASE JOIN/RENEW US ROWING MEMBERSHIP & Sign WAIVER.
NEW ROWERS.
Please join US Rowing: https://membership.usrowing.org/individual/join
Basic membership is $7.75.
Type TCU for Club affiliation. Our ID # 11120.
Once you have signed up for basic Membership please sign US ROWING Waiver. Code: ZJZSE
Make note of your US Rowing Membership.
Varsity Rowers: (Except for Krista & Galilea who's current until 2018)
Please renew US Rowing: https://membership.usrowing.org/individual/login
Use your US ROWING ID # listed on Roster below.
Basic membership is $7.75
Please also sign Waiver: Code: ZJZSE
PLEASE get Membership/Waiver accomplished ASAP. Deadline for everyone to have this completed is Wednesday.